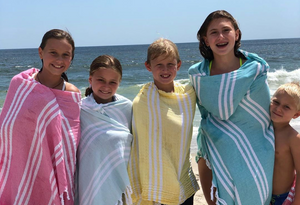 Wrapped in Love, Naturally
Elile Loom is a lifestyle and home goods brand combining the Turkish art of hand-looming with the finest premium organic Turkish cotton. The result—the most luxurious towels, robes, blankets and other woven items ever.
Elile means "by hand" in Turkish. It also happens to be the perfect contraction of Ellie and Lexie, the names of founder Sara Cusimano's two daughters. Sara was initially drawn to these organic towels for their clean and natural composition. The cotton is never treated and uses natural dyes to protect the cotton's anti-bacterial and non-irritating properties.
Elile Loom's Turkish Towels, Robes and Blankets are hand-woven by local artisans with 100% organic Turkish cotton that is GOTS certified as the highest Global Organic Textile Standard. In order to sustain this ancient art, a portion of every purchase is donated to a technical school for weavers in Turkey.
Welcome to Elile Loom and thank you for taking a look.